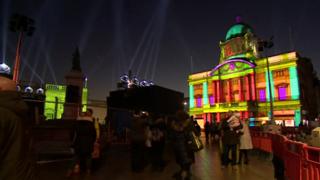 A huge fireworks display and videos projected on to buildings will launch Hull's year as UK City of Culture.
More than 25,000 people are expected at the city's waterfront later for the display, which organisers claim will be bigger than London's New Year's Eve show.
Historic buildings across the city will become backdrops for projections illustrating the history of Hull.
Organisers said they hoped to attract more than 1m extra visitors in 2017.
Martin Green, chief executive of City of Culture, said: "I want nationally and internationally people to see that that this is a fantastic city with great stories, great people and a lot to offer.
"Because every city deserves its moment in the limelight and 2017 is ours."
'Rebuild and regenerate'
Hull is the second city to be given UK City Culture status, following Derry-Londonderry in 2013.
The city was selected in 2013 from a shortlist which included Dundee, Leicester and Swansea Bay.
More than £30m is being spent on the year's events and £25m has been invested in revamping the city centre and refurbishing the Ferens Art Gallery and the city's main theatre.
The city will host the Turner Prize and will see hundreds of concerts and other performances throughout the year.
Former Hull Labour MP, Lord Prescott, said he hoped the event would be a catalyst for change in Hull.
"Its lifted up the spirit of people," he said.
"You can rebuild and regenerate and build the confidence of the people by culture."