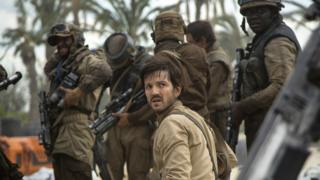 Diego Luna's accent matters in Rogue One, says the Hispanic community in America, the cult leader Charles Manson is used as a symbol of everything wrong with political rivals in America, another report on the pay gap between sexes in the UK raises hackles, and people are proposing the best places for Mark Zuckerberg to visit on his tour of the US this year.
Hero with a Mexican accent
"I took my father to see Rogue One today… I wanted my Mexican father, with his thick Mexican accent, to experience what it was like to see a hero in a blockbuster film, speak the way he does."
A Tumblr post by a 27-year-old calling herself Perls is touching many people, especially after it was retweeted by the movie's lead actor, Diego Luna, who said he "got emotional" reading it.
"When Diego Luna's character came on screen and started speaking, my dad nudged me and said, 'he has a heavy accent'," Perls recounted. Later, she said, her father asked why Mr Luna hadn't changed his accent.
"I told him that Diego has openly talked about keeping his accent and how proud he is of it. And my dad was silent for a while and then he said, 'And he was a main character.' And I said, 'He was.' And my dad was so happy… Representation matters," she added.
Many responding to Mr Luna's tweet were also moved. "Got something in my eyes," tweeted one user.
And not just the Hispanic community. "Me too. My grandfather had a heavy heavy Eastern European accent," said another tweet.
Perls herself was thrilled to find out that Diego Luna had read her post, though not as much as she thought her father would be.
"He's in Tijuana at the moment. I tried calling but he doesn't answer. I'll keep you guys updated on what he says! I am so touched that Diego took the time to tweet about it and I know my 60-year-old, very chill dad, is going to FREAK OUT," she said.
---
Why is #CharlesManson trending?
Well, news broke last night that the imprisoned US serial killer was seriously ill in hospital. But detractors of President-elect Donald Trump have dominated tweets of the hashtag, using it to have a go at him and pointing out what they think are similarities between his world view and Manson's.
Charles Manson led a cult whose followers committed a number of murders in 1969, in the hope they would spark a race war that would end with his emergence as America's ruler.
Many anti-Trump Twitter users joked that such ideology fitted Trump's politics neatly.
"Alright let's be honest, who else saw #CharlesManson trending and thought @realDonaldTrump had announced another cabinet pick?" asked one user.
Others have drawn parallels between Mr Trump and Manson in the past. A popular image being shared this Wednesday is a screenshot of a video comparing their facial expressions, made earlier this year.
But Mr Trump's supporters have also been quick to fire back at his political rivals with the hashtag too.
"Saw Charles Manson trending and thought the Democrats were now blaming him for Hillary's loss", said one.
Another used the news to laud Mr Trump, saying the downturn in Manson's health "must be the #TrumpEffect, #2017 is only the beginning of Making America great again".
---
Mind the gap
A report saying that women face a "rapid rise" in pay inequality in their 30s and 40s has sparked a lot of eye-rolling on Twitter.
First up: those saying that such reports are misleading on the issue because it is not pay that is unequal:
"#GenderPayGap is feminist claptrap. There is a pay gap and there SHOULD BE a pay gap because it's actually an EARNINGS gap," said one user.
"When I leave work to have kids, my career will be on hold. I will earn less over time than everyone else who stays. Get it?" asked another.
"Women earn less because they choose to. It is illegal to pay a woman less for the same work as a man. Respect women's choices," said yet another.
Next: Those arguing that this should not happen anyway, even if there's not complete agreement on the reasons for it:
"It's great that the #genderpaygap is down to 'just' 5% for millenials . Except it isn't, it won't be great until it's 0% for all women," said one tweet.
"Yet more evidence of significant motherhood pay penalty," said another.
"The #genderpaygap is complex – includes occupational segregation, maternity discrimination, ageism, overt & indirect bias & more," added @EverydaySexism.
It's certainly not a straightforward issue but we've explained some of the nuances behind such figures here and, if nothing else, you could take heart with parliament's Women and Equalities Committee, which has recommended several measures, including initiatives for parents to share care equally.
---
Is it Okay in Oklahoma, Mr Zuckerberg?
Mark Zuckerberg's new year's resolution to visit and meet people from all around America in 2017 has set tongues wagging that he may be eyeing a move into politics – specifically the White House – in the future.
"It seems we are at a turning point in history," Mr Zuckerberg said. "For decades, technology and globalization have made us more productive and connected. This has created many benefits, but for a lot of people it has also made life more challenging."
"This has contributed to a greater sense of division than I have felt in my lifetime. We need to find a way to change the game so it works for everyone."
Of course he has been deluged with invitations for home-cooked meals and recommendations for "fun places" to see. More than two-thirds of Americans are active users on Facebook. But many are also urging him to remember the poorer, more rural and technologically challenged parts of the country.
"I live in a small town called Okay, Oklahoma," posted Troy Rappe. "We have approximately 600 people, no stop lights, and maybe 20 stop signs. Our rural school system, if you look at Oklahoma economy, is in shambles. It would be a blessing if you visited just to find out what rural really is and how it's holding back some very bright minds."
"You need to visit Moosehead Lake, Maine. Specifically, Greenville. It's literally the edge of civilization… People rely on portable wifi and satellite dishes because many of the homes are not wired for cable/internet because of their remoteness… I think you'd be surprised at just how everyone 'makes do' with wifi and satellite vs cable/internet connections," said Carol Sanders-Sheehan.
"How about New Mexico, beautiful but so poor state where addiction and mental health problems dominate, where is the highest suicide attempts in US," added Viola Rebecka.
Responses to his post are in excess of 17,000 and counting so far. Mr Zuckerberg will have plenty to listen to this year.
---