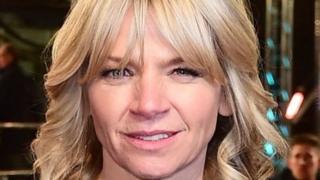 Broadcaster Zoe Ball has thanked listeners for "reaching out with love" on her return to BBC Radio 2 following her boyfriend's death.
Ball dedicated a song to Antiques Roadshow cameraman Billy Yates at the start of Saturday's show.
The DJ had taken a four-week break from the airwaves after Mr Yates, 40, was found dead at his London home.
She said: "Your messages have meant the world to us all, and so I send you love from the bottom of my heart."
'Tough time'
Ball told listeners she had been through a "tough time" but she and Mr Yates's family had been inundated with support, including from "many of you who've experienced your own loss and grief in similar circumstances".
She also thanked Kate Thornton, Suzi Perry and Melanie C, who stood in for her on the weekly 15:00 to 18:00 BST show in her absence.
The DJ started her show with soul song Do I Love You (Indeed I Do) by Frank Wilson, saying: "Billy was a truly special chap, and the things he loved to do, he loved to make everybody laugh, he loved to love and he loved to dance.
"So Billy Will Yates-face, this one is for you angel."
Ball and Mr Yates had been in a relationship for several months following her separation from her husband of 18 years Norman Cook – who performs as DJ Fatboy Slim – in September 2016.
Afterwards Ball, 46, shared a picture of a flower on her Instagram page, along with the caption: "My sweet love X".
Police were called at 18:40 BST on 4 May to Mr Yates's flat in Putney, south west London, where he was later pronounced dead.
The Metropolitan Police said at the time his death was not being treated as suspicious.